Immediate Action Report
This analysis criteria is based on the current habitable condition of the structure. The items addressed either require repair or replacement in order to provide integrity to the dwelling, or represent a condition that if neglected could result in severe additional costs or present a hazardous condition to occupancy.
EXTERIOR STRUCTURE
2.1.0 PERIMETER EXTERIOR
2.1.9 BELOW GRADE WALLS


RAISED PLANTERS HAVE BEEN INSTALLED AGAINST THE WOOD FRAME WALLS OF THE WEST GARAGE


AND THE NORTH WALL OF THE FAMILY ROOM. MOISTURE CAN BE WICKED THROUGH THE STUCCO AND DETERIORATE THE UNDERLYING WALL FRAMING. BELOW GRADE WOOD FRAMED WALLS ARE VULNERABLE TO MOISTURE AND PEST INFILTRATION, MOLD ACCUMULATION, AND ROT AND DETERIORATION OF WOOD MEMBERS. IT IS RECOMMENDED THAT THE PLANTERS BE REMOVED AND GRADE BE MAINTAINED AT A LEVEL BELOW THE SILL PLATE ON THE WALL INTERIOR. (OR, SOIL SHOULD BE REMOVED AND THE WALLS DAMP PROOFED IN BELOW GRADE AREAS).
FOUNDATION
4.2.0 RAISED FOUNDATION
4.2.6 MOISTURE & DAMPNESS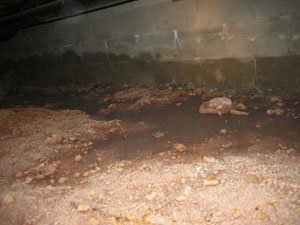 WATER IS POOLING IN THE CRAWL SPACE NEAR THE LIVING ROOM NORTH WALL. IT APPEARS
THAT WATER HAS PENETRATED THE FOUNDATION AND HAS ENTERED THROUGH THE NORTH SIDE
CRAWL SPACE VENT. THIS HAS CAUSED SOME WOOD BRACES SET ON GRADE TO ROT. THERE
ARE ALSO SIGNS OF MOLD ON THESE MEMBERS. IT IS RECOMMENDED THAT MOLD TESTING
AND REMEDIATION BE PERFORMED. THE CRAWL SPACE WILL NEED TO BE DRIED, THE FOUNDATION
SHOULD BE WATER PROOFED AND DRAINAGE MODIFICATION SHOULD BE MADE SO THAT WATER
FLOWS AWAY FROM THE STRUCTURE. ESTIMATES FOR THIS WORK SHOULD BE OBTAINED SO
THE COST CAN BE ANTICIPATED. THE PRESENT CONDITIONS POSE A SERIOUS HEALTH HAZARD
AND MUST BE CORRECTED BEFORE OCCUPANCY.
HEATING & AIR CONDITIONING
8.3.0 HOT WATER
8.3.14 CHECK ENTRAN II RADIANT HEAT TUBING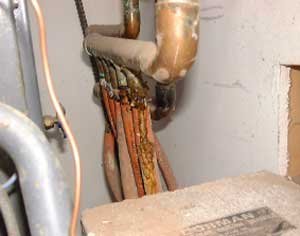 THE RADIANT HEAT TUBING IN THIS STRUCTURE IS ENTRAN II. THERE ARE CURRENT LEAKS AT THE MANIFOLD CONNECTIONS IN SEVERAL LOCATIONS. THERE HAVE BEEN SIGNIFICANT FAILURES IN HEATING SYSTEMS WITH THIS TYPE TUBING. AS A RESULT OF THESE FAILURES, A CLASS ACTION LAWSUIT WAS FILED AGAINST THE MANUFACTURER, GOODYEAR, AND A JUDGEMENT MADE AGAINST THEM. FOR DETAILS ON THE TERMS OF THE SETTLEMENT VISIT, www.entraniisettlement.com